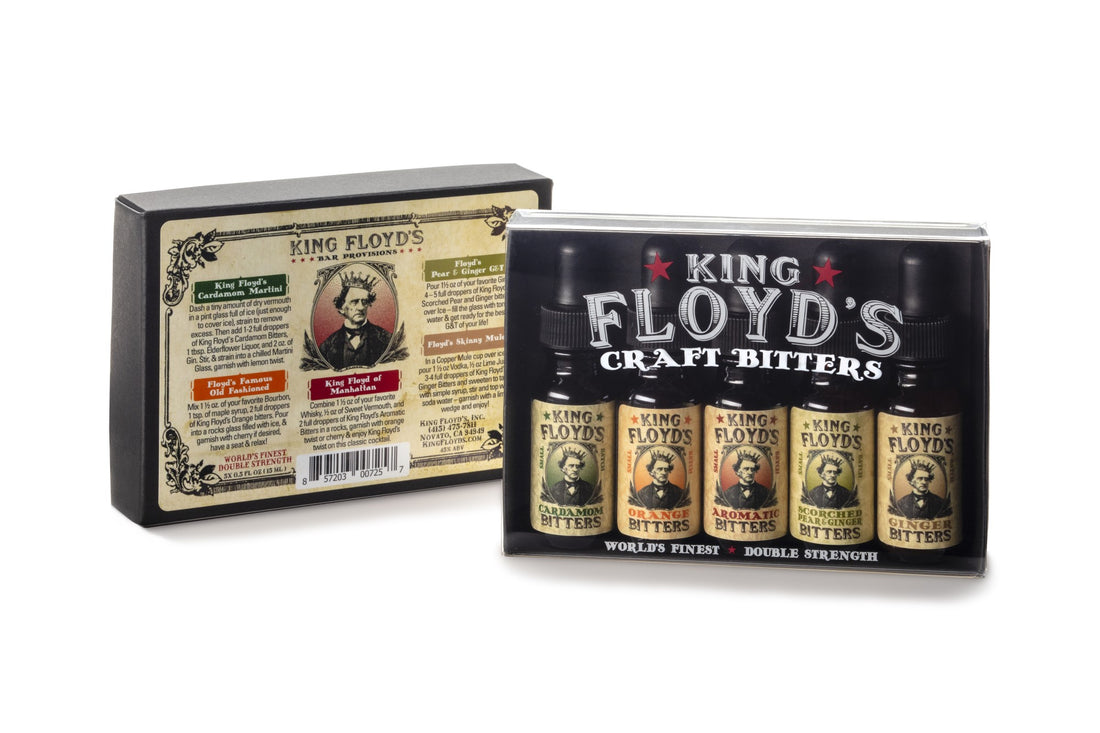 KING FLOYD'S Classic Sampler Gift Set
KING FLOYD'S® supplies the highest quality Bitters available. These bottles contain our top-selling Bitters. Each herb and spice is carefully selected for taste, potency and purity, meticulously extracted using King Floyd's secret percolation process.
King Floyd's Classic Sampler Gift Set lets anyone taste the range of our Top-Selling Artisanal Cocktail Bitters.
King Floyd's Orange Bitters brings forth a bitter zest with a touch of citrus sweetness for a perfect balance.
King Floyd's Cardamom Bitters will take your cocktail on a trip to an exotic world as the pure essence of Cardamom excites your senses.
King Floyd's Flagship Aromatic Bitters is a combination of 10 different herbs & spices that is sure to bring complexity to a simple spirit.
King Floyd's Scorched Pear & Ginger Bitters brings forth a Caramelized Pear sensation with a finishing heat from the Ginger.
King Floyd's Ginger Bitters brings forth the earthy heat and tang of Ginger in cocktails and recipes alike.
Special Delivery
Great product, Excellent service
Sent as a gift - it was WELL received!
What great gift! I sent it to my brother who revels in a cocktail every night. He loved it! I made sure to include the notable dill peanuts and for his wife the caramel ones. Totally successful as a surprise and as a gift he will use.
Recipes
King Floyd of Manhattan
Combine
1 1/2 oz of your favorite Whisky
1/2 oz of Sweet Vermouth
2 dashes of King Floyd's Barrel Aged Aromatic Bitters on the rocks
Garnish with orange twist or cherry and enjoy King Floyd's twist on this classic cocktail.